Jan 19- 21, 2024
The 20th Bayou Battles is quite a milestone event. No one back in 2003 would have guessed that this tournament would still be around 2 decades later! We want to thank all those that have supported this event over the years. To commemorate the 20th Bayou Battles, we will be bringing back one of our most popular swag items: The Bayou Pint Glass!!! While the design is yet to be determined, everyone that plays at Bayou will get a free Pint Glass to take home." Here is the one we gave away 10 Bayous ago…what will this one look like?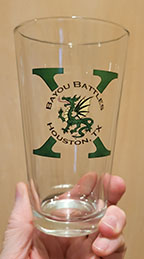 What in the World Cup?!
We have had a LOT of positive feedback on our World Cup style format the past 3 years, and with the quadrennial event having taken place in November 2022, hopefully you watched and experienced the thrill of the first round of group games and qualification to the next round. Our unique event mimics this fantastic format!
Here are a few of the high points, but see the additional pages for more details on the event:
Limited to 32 Players, expandable to 40 with enough interest
6 games over 2 days (4 Saturday, 2 on Sunday)

3 games of round-robin Group play in the first stage
3 games in the second "Bracket" Stage

1,995 points army size

1500 point base army, plus
Your choice of two 495 point sideboards
Free Soccer Special Character—several options to choose from!

Soft scores (sportsmanship and army appearance) are still a very important part of the event!
Bayou Battles is just one of many amazing tournaments in the region. Check out these other events in Texas and the surrounding states:
Lonewolf GT (Dallas, TX, April) http://lonewolfgt.com
Naughty or Nice (doubles tournament, Fort Worth, TX, December) https://www.facebook.com/groups/856593425519904
Samurai Showdown (Dallas, September) https://www.dojogt.com
Alamo GT (San Antonio, TX, November) http://alamofantasygt.com
King of the Monsters GT (Texarkana, AR, May)
Melee at Shiloh (Fayetteville, AR, February) https://www.meleeatshiloh.com
Special thanks to our sponsors:
---
Bayou Battles
Copyright © 2020 · All Rights Reserved